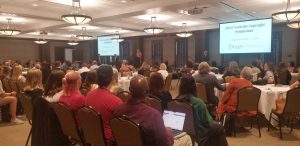 It was standing-room only at Belmont University on September 11, 2023, as members of the Copyright Society of the South, Belmont faculty, students, and guests enjoyed three informative sessions on the Copyright Office and The Copyright Royalty Board from those working the front lines in Washington, D.C.   The symposium was sponsored by Belmont, FirstBank, and the Society.
Judge Steve Ruwe and John Riley were the symposium's special guest speakers. Judge Ruwe currently serves on The Copyright Royalty Board.  Riley is an Assistant General Counsel at the Copyright Office.   After each speaking individually they joined in on a panel moderated by Brittany Schaffer, Dean of the Curb College of Entertainment and Music Business at Belmont.  A Q&A session concluded the event.
The Copyright Society of the South and Belmont University welcome Judge Steve Ruwe and John Riley to its Fall 2023 Copyright Symposium.
L to R:  Kent Draughon; Aaron Barker; Brittany Schaffer; John Barker; John Riley; Marghie Evans; Judge Steve Ruwe; Brian Buchanan; Tim Wipperman; Stacey Schlitz; Christy Robinson; Colin Rushing.
________________________
The Copyright Society of the South was formed in 1988 in Nashville, Tennessee, consisting of music publishers, attorneys, music industry personnel, and academicians interested in the field of copyright law. Its mission is to provide a forum for study and discussion of domestic and international copyright law and other matters pertaining to the entertainment industry. It provides seminars, speakers, presentations, and the opportunity to present various points of view on subjects of interest to the membership. The Society refrains from taking a lobbying role or endorsing or sponsoring political positions or candidates.  
Members are accepted into the organization by board vote. If you are interested in joining the Copyright Society of the South please complete our membership application on our "How To Join" page on our website, or email us at [email protected] .
Category: Core Content, Event Photos, Event Pics, News