Member Spotlight
Sally Rose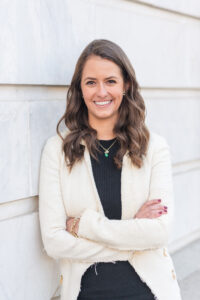 Sally Rose is Vice President of Government Relations and Public Affairs for the Digital Media Association (DiMA). In that role, she leads DiMA's lobbying, legislative, and public engagement efforts across a range of issues.  
As a veteran of Capitol Hill, Sally Rose's extensive experience developing policy priorities and political strategy has helped shape many legislative wins for the music streaming industry.
Before joining DiMA, Sally Rose served as Deputy Chief of Staff to U.S. House Judiciary Committee Ranking Member Doug Collins, where she was one of the chief architects and strategists behind the Music Modernization Act (MMA). While working for Rep. Collins, Sally Rose also was responsible for management of the Washington, D.C. office, developing legislative strategy and policy agendas, and managing stakeholder engagement and outreach.
Sally Rose also previously served in senior legislative positions for the House Rules and Judiciary Committees, and for a member of the House Energy and Commerce Committee. 
Sally Rose is a native of Georgia and graduated cum laude from Georgetown University with B.A.s in Government and History. She lives in Atlanta, GA with her husband and their English bulldog, James Bond.