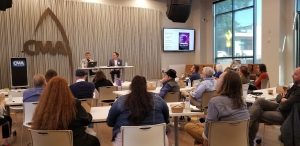 On October 18, 2023, members and guests of the Copyright Society of the South enjoyed lunch and a presentation by Bob Raines (Executive Director) and Jimmy Wheeler (Director of Business Development, Music Office) from the Tennessee Entertainment Commission. The event was held at the headquarters of the Country Music Association (CMA) in Nashville, Tennessee.
The TEC's new Music Office was recently formed to promote the state of Tennessee as a valued and thriving infrastructure to support the growing talent pool of singers, songwriters, musicians, composers, engineers, and producers in the region.  Raines and Wheeler presented information on incentives such as TEC's music scoring grants, business expansion resources, and the Tennessee Music Directory, a live database designed to market the creative music industries across the state.  Tennessee-based music industry personnel and businesses are encouraged to register and establish their profile in the directory at TEC's website here:  https://www.tnentertainment.com/music/real-music/.
Music businesses who are not based in Tennessee but are ready to bring projects to the state or are considering a company relocation to Tennessee can contact the TEC for information and resources at https://www.tnentertainment.com/about/contact/ or by phone at (877) 818-3456.
TEC Social Pages:
https://www.facebook.com/tnentertains
https://www.instagram.com/tnentertains
Twitter/X:  @tnentertains
Members of the Copyright Society of the South board of directors welcome TEC's Bob Raines and Jimmy Wheeler to its October luncheon event.
L to R: Jimmy Wheeler; Bob Raines; Marghie Evans; Aaron Harley; Colin Rushing.
---
The Copyright Society of the South was formed in 1988 in Nashville, Tennessee, consisting of music publishers, attorneys, music industry personnel, and academicians interested in the field of copyright law. Its mission is to provide a forum for study and discussion of domestic and international copyright law and other matters pertaining to the entertainment industry. It provides seminars, speakers, presentations, and the opportunity to present various points of view on subjects of interest to the membership. The Society refrains from taking a lobbying role or endorsing or sponsoring political positions or candidates.  The Society also offers a scholarship awards program for students majoring in copyright-related fields.
Members are accepted into the organization by board vote. If you are interested in joining the Copyright Society of the South please complete our membership application here, or send us an email to [email protected] .
Category: Core Content, Event Photos, Event Pics, News