On June 20, 2019, the Copyright Society of the South enjoyed a very informative panel discussion regarding copyright acquisitions, sales, and analyses.  The SRO luncheon event was held exclusively for CSoS members and  their guests at BMI's Nashville office on Music Row.
The Society welcomed panelists John Ozier (Reservoir Media Management), Chip Petree (Ritholz Levy Fields Law Offices), and Brad Peterson (Regions Bank/Sports and Entertainment Division).  Society board member Tim Wipperman served as moderator for the panel.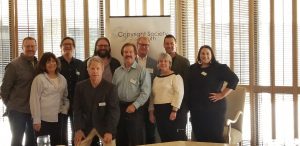 Copyright Society of the South Board Members welcome John Ozier, Chip Petree, and Brad Peterson to its June luncheon event at BMI/Nashville.
Back Row (L to R):  Kent Draughon; Sam Powers; Chip Petree; John Ozier; Brad Peterson.
Front Row (L to R):  Marghie Evans; Ted Goldthorpe; Tim Wipperman, Christy Robinson; Kari Barnhart.
Category: Event Photos, Event Pics