On May 21, 2019, the Copyright Society of the South welcomed Marcus Cobb, CEO and Co-founder of Jammber as its guest speaker.
Jammber (www.jammber.com) is a workflow and payment platform for the entertainment industry.  Cobb has designed finance technology for Fortune 50 companies and has also designed fashion featured in music videos for Pitbull, Baby Bash,Trey Songz and others.
An amateur songwriter and life-long musician, Cobb and his company Jammber have brought their passion for creatives to solve complicated legacy issues that plague the $2 trillion entertainment industry. He is a frequent speaker, writer and advocate for creative rights.  Marcus currently resides in Chicago and Nashville.
The luncheon event was held at ASCAP's Nashville offices on Music Row for CSoS members and  their guests.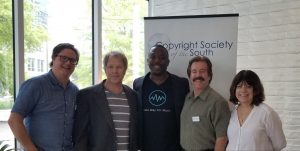 The Copyright Society of the South Board of Directors welcomes Marcus Cobb with Jammber as special guest and speaker for its May event.
 (L to R):  Sam Powers ; Ted Goldthorpe; Marcus Cobb; Tim Wipperman; and Marghie Evans.
Category: Event Photos, Event Pics, News