"Don't let common sense cloud your judgement."
"Have a reputation for integrity."
"You build yourself by building other people, not by building yourself up."
These were just some of the words of wisdom shared on March 29, 2023, when members and guests of the Copyright Society of the South enjoyed a conversation among Copyright Society of the South founders David Conrad, Mike Milom, and Tim Wipperman.
Copyright Society of the South board director John Barker moderated the panel, who discussed the formation and journey of the Copyright Society of the South, how the country music industry has evolved over the last forty years, and gave their thoughts on the future of the music business and the roles copyright and intellectual property will play in its landscape.
Mike Milom is a partner in the law firm of Milom Crow Kelley Beckett Shehan, PLC, and practices entertainment, copyright and literary property law, representing many high-profile performing artists, songwriters and other clients in the entertainment industry. Milom represents artists such as Alabama, Kelsea Ballerini, Luke Bryan, Brandy Clark, Emmylou Harris, Rascal Flatts, Ricky Skaggs, Hank Williams Jr., Keith Urban,  and serves as Counsel to the Country Music Hall of Fame and Museum.  Mike also served as an Adjunct Professor of Law Vanderbilt School of Law for more than 35 years, teaching copyright and entertainment law. Milom has been included in Best Lawyers in America® for 20+ consecutive years, is recognized as a Star Attorney among Tennessee Media and Entertainment attorneys by Chambers USA, and has been included in Billboard's Country Power Players and its list of Top U.S. Music Lawyers since 2017.
David Conrad's career spans over thirty five years in the music publishing business, playing a major role in the development of Nashville as one of the world's primary songwriting capitals. Born in Winston‑Salem, North Carolina, Conrad received a degree in Radio/Television/Motion Picture Production from the University of North Carolina at Chapel Hill.  He also studied classical guitar with Jesus Silva and attended master classes with Andre Segovia. With the encouragement of his friend Chet Atkins Conrad moved to Nashville in 1971.  He began working for Jerry Reed's Vector Music, and was also hired for live and studio guitar playing.  David's publishing career was interrupted for two years as he traveled and performed with the United States Army Special Services Show. In 1973 Conrad was hired as general manager for Charley Pride's Pi‑Gem/Chess Music where he managed 15 songwriters and was involved in the development of such award‑winning tunesmiths as Kent Robbins, Dennis Morgan, Kye Fleming and Archie Jordan.  David was also involved in the careers of and selected material for Charley Pride, Ronnie Milsap, and Barbara Mandrell. In 1981, Conrad opened the Nashville office of Almo Music, the publishing arm of A&M Records. Through David's vision and direction the company became a leader in cultivating songwriting of all genres, placing hundreds of songs not only on the country music charts but pop, adult contemporary, and R&B as well.   Conrad is past president of the Board of Directors of the Country Music Association, served as a board member of the Nashville Songwriters Foundation, and held two terms as president of the Nashville Entertainment Association. The Nashville Songwriter's Association awarded David the Frances Williams Preston Mentor Award for his work in supporting Nashville songwriters.  Conrad is credited with starting and producing the concert series Stars for Second Harvest Food Bank, raising over a million dollars for the organization.  A graduate of Leadership Nashville, Leadership Music and Faith Leader, Conrad has served on the board of the Country Music Foundation for 32 years and as Trustee for 16 years. David is honored as one of six members of the Country Music Foundation's Circle Guard.
Tim Wipperman is Managing Director of OneRPM's Nashville operations.  A veteran music publishing and record label executive, Wipperman has decades of industry experience in Music City. After starting his career as a classically trained trumpet player, Wipperman attended the University of Wisconsin–Madison, earning his way through school by playing in R&B and Dixieland bands. Upon graduation, Tim moved to Nashville in the 1970s at the invitation of his cousin, Hall of Fame songwriter Rory Bourke, and was hired by legendary Nashville musician Chet Atkins to run Vector Music Publishing. Wipperman then worked for Cedarwood Publishing as a song plugger and Combine Music, pitching songs for writers such as Kris Kristofferson until Warner Bros. Music asked him to run its Nashville office shortly after it opened.After nearly 30 years as senior executive at Warner Bros. Wipperman moved to the record label side of the business at Equity Music Group for five years, then formed his own music company, Wipperman Music Group. Tim later served as CEO of Rezonant Music before becoming president of Anthem Music Publishing in 2019, until accepting his current position at ONErpm. Along the way, Wipperman became the youngest publisher to receive the ASCAP Country Music Publisher of the Year and won BMI, ASCAP and SESAC publisher of the year awards more than 10 times. Notable artist signees include Willie Nelson, Alan Jackson, Little Big Town, Jason Aldean with Michael Knox, Trace Atkins, Restless Heart and David Alan Coe, along with multiple Hall of Fame songwriters and producers. During his tenure at Warner,Tim and his team won more than 500 ASCAP, BMI and SESAC awards; Grammy Awards; and ACM and CMA awards, including multiple song of the year nods.  Wipperman also serves as Board Director and Treasurer for the Copyright Society of the South.
The event was held in the event room at the Country Music Association headquarters in Nashville, Tennessee.
__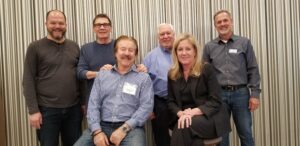 L to R: Colin Rushing, CSoS Board Director; David Conrad; Tim Wipperman; Mike Milom; Stacey Schlitz, CSoS Board Director ; John Barker, CSoS Board Director.
________________________
The Copyright Society of the South was formed in 1988 in Nashville, Tennessee, consisting of music publishers, attorneys, music industry personnel, and academicians interested in the field of copyright law. Its mission is to provide a forum for study and discussion of domestic and international copyright law and other matters pertaining to the entertainment industry. It provides seminars, speakers, presentations, and the opportunity to present various points of view on subjects of interest to the membership. The Society refrains from taking a lobbying role or endorsing or sponsoring political positions or candidates.  The Society also offers a scholarship awards program for students majoring in copyright-related fields.
Members are accepted into the organization by board vote. If you are interested in joining the Copyright Society of the South please complete our membership application on our "How To Join" page on our website, or email us at [email protected] .
Category: Core Content, Event Photos, Event Pics, News