September 11, 2023 – Fall Copyright Symposium
September 11 @ 10:00 am

-

1:00 pm
Copyright comes to Nashville!   Enjoy three awesome sessions with Judge Steve Ruwe and John Riley as they discuss the current landscape of copyright from the front lines. This event will NOT be recorded.  Don't miss it! 
Guest Speakers/Panelists: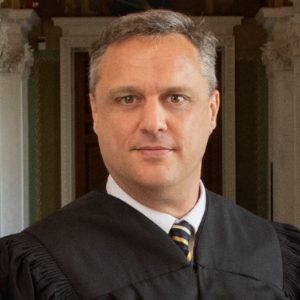 Judge Steve Ruwe has a broad background in copyright and intellectual property law. Before his appointment to the Copyright Royalty Board, Ruwe served as assistant general counsel in the Copyright Office's Office of the General Counsel. He began his service in the Copyright Office in 2006, rising from the position of attorney-advisor to assistant general counsel. Ruwe's work at the Copyright Office ranged over many issues, including statutory licensing, CRB rate determinations, regulations, policy studies, and appellate litigation.
From 2016 to 2018, he held the position of attorney advisor for copyright law and policy with the Patent and Trademark Office's Office of Policy and International Affairs. With the PTO, Ruwe served on U.S. delegations in international negotiations, including NAFTA/USMCA negotiations and treaty negotiations at the World Intellectual Property Organization's Standing Committee on Copyright and Related Rights.
John Riley is an Assistant General Counsel at the Copyright Office where he has contributed to the United States Government's briefs in the Petrella and Aereo Supreme Court cases, the Copyright Small Claims, Copyright and the Music Marketplace, and Unclaimed Royalties: Best Practice Recommendations for the Mechanical Licensing Collective policy reports, and, among other regulatory work, has authored rules implementing the Music Modernization Act, Copyright Alternative in Small-Claims Enforcement ("CASE") Act of 2020, and the GRAM registration option.
Prior to joining the Copyright Office, John worked as the Senior Manager of Intellectual Property Enforcement at the United States Chamber of Commerce's Global Intellectual Property Center. John earned his LL.M. in Intellectual Property Law from the George Washington University Law School and his JD from the Dickinson School of Law. He holds BA degrees in Political Science, English, and Communication Arts & Sciences from Penn State University.  He has been recognized by the American Intellectual Property Law Association for his distinguished service and contributions in the field of intellectual property law.
****This is a private event for Society members and their registered guests.  If you are interested in becoming a member of the Copyright Society of the South, or if you are an active member and did not receive your email invitation,  contact us at [email protected] .***