On May 24, 2018, the Copyright Society of the South enjoyed an informative  lecture and multi-media presentation by Dr. E. Michael Harrington.The luncheon event was held at BMI's Nashville headquarters for CSoS members and guests.
Dr. Harrington explained the analyses involved in the journey of public domain (PD) works becoming copyrighted by means of added original expression, and the legal issues these newly copyrighted works face.  He included a fascinating tour of  evolutionary musical examples by Bach, Dave Brubeck, Paul Simon, Beethoven, Woody Guthrie and others.  Dr. Harrington also discussed some of the specifics of his successful effort to free the song "We Shall Overcome" from copyright control,  as well as his  current work to free the song "This Land Is Your Land."
Dr. Harrington is a composer, musician, consultant, and currently a course author and professor at Berklee Online.  He created the Berklee Online Music Business Capstone course, is in the process of creating the the Berklee Online graduate school Music Business Law class, and the Berklee Online Music Copyright Law MOOC, and has taught courses in music entrepreneurship, licensing, and the future of the music industry at Berklee Online (2012-present).  He was Music Business Program Faculty Chair at SAE Institute Nashville from 2014-2017.  He taught intellectual property law and courses in music, music and entertainment industry, social media and technology at William Paterson University (2008-2012).  He was Professor of Entertainment & Music Business in The Mike Curb College of Entertainment & Music Business at Belmont University (2000-2008), and Professor of Music Theory, Composition & Ethnomusicology in the College of Visual and Performing Arts (1985-2000) at Belmont University.  He was the 1995 Jemison Distinguished Professor of The Humanities at the University of Alabama-Birmingham, an endowed chair funded by the National Endowment for the Humanities, the Jemison Family and UAB.   Dr. Harrington has worked as an expert witness and consultant in music copyright issues involving the Dixie Chicks, Woody Guthrie, Deadmau5, Lady Gaga, We Shall Overcome Foundation, Jib Jab, and others. You can find Dr. Harrington's complete biography and profile at www.emichaelmusic.com .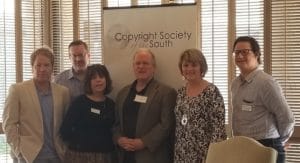 CSoS Board Members welcome Dr. E. Michael Harrington to its May luncheon event.
L to R:  Ted Goldthorpe; Kent Draughon; Marghie Evans; Dr. Harrington;
Janice Bane; and Sam Powers.
Category: Uncategorized