On April 4, 2018, the Copyright Society of the South enjoyed an informative and candid update and Q&A session by NSAI Executive Director Bart Herbison regarding the Music Modernization Act.    The luncheon event was held at the CMA Event Center on Music Row for CSoS members and guests.
The Music Modernization Act is a bill that proposes reforms in the music licensing landscape in four main dimensions:  1) a Section 115 reform; 2) a willing buyer/willing seller standard; 3) a "wheel" approach regarding rate setting disputes; and 4) a Section 114(i) Repeal.
A summary of the bill has been posted at our website at https://copyrightsocietyofthesouth.com/an-overview-of-the-music-modernization-act/.  You can also sign up for official Congressional alerts regarding this Bill at the following web link:  https://www.congress.gov/bill/115th-congress/house-bill/4706 .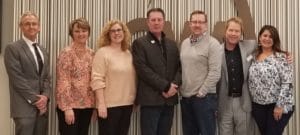 L to R:  Karl Braun; Janice Bane; Tara Aaron; Bart Herbison; Kent Draughon; Ted Goldthorpe; and Denise Stevens
Category: Uncategorized