On September 28, 2018, the Copyright Society of the South enjoyed an informative presentation regarding the topic of copyright infringement by attorney Richard Busch of King & Ballow law firm. The luncheon event was held at ASCAP's Nashville headquarters for CSoS members and guests.
Mr. Busch obtained a jury award of $7.4 million in favor of the heirs of Marvin Gaye against Pharrell Williams and Robin Thicke arising out of the unlawful copying of Marvin Gaye's classic hit Got to Give It Up in the song Blurred Lines.
Richard S. Busch is a Partner in the Litigation Section and is Head of the Entertainment and Intellectual Property Sections of King & Ballow. His practice areas include Litigation (State and Federal), Entertainment Litigation, Intellectual Property Litigation, and Commercial Litigation. Prior to joining the firm, Mr. Busch served as Law Clerk to the Honorable John V. Parker, Chief Judge of the United States District Court for the Middle District of Louisiana.
Mr. Busch received his law degree from Loyola University Law School where he was a member of the Loyola University Law Review and the Moot Court Board, serving as Spring National Team Coach. In addition, Mr. Busch received the American Jurisprudence Award for Secured Transactions and the Fishman Award as the outstanding commercial law student.
View Mr. Busch's full bio and profile at https://kingballow.com/attorneys/richard-busch .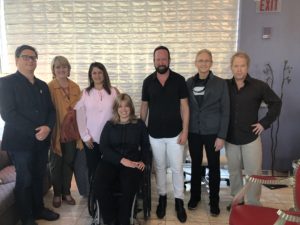 CSoS Board Members welcome Richard Busch to its September luncheon event at ASCAP's Nashville offices.
(L to R:  Sam Powers; Janice Bane; Denise Stevens; Jodi Carmichael; Mr. Busch; Karl Braun; and Ted Goldthorpe)
Category: Core Content, Event Photos, Event Pics, News