On February 6, 2019, the Copyright Society of the South welcomed back NSAI Executive Director Bart Herbison, who discussed the Orrin G. Hatch-Bob Goodlatte Music Modernization Act of 2018 (H.R. 1551)(formerly known as the Music Modernization Act) which President Trump signed into law on October 11, 2018. The luncheon event was held at ASCAP's Nashville offices on Music Row for CSoS members and guests.
Information regarding H.R. 1551 can be found at the following web links:  https://www.congress.gov/bill/115th-congress/house-bill/1551 and https://www.copyright.gov/music-modernization/.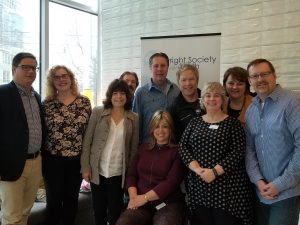 The Copyright Society of the South Board of Directors welcomes back Bart Herbison as special guest and speaker for its February event.  Front Row (L to R):  Sam Powers; Tara Aaron; Marghie Evans; Jodi Carmichael; Christy Robinson; and Kent Draughon.  Back Row (L to R): Tim Wipperman; Bart Herbison; Ted Goldthorpe; and Janice Bane.  Not Pictured:  Kari Barnhart.
Category: Event Photos, Event Pics, News, Uncategorized