Mem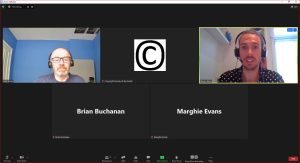 bers and guests of the Copyright Society of the South enjoyed a webinar on April 27, 2022, with guest speakers Steven Boyd and Neil Jones of ICE (www.iceservices.com).  Boyd serves as Senior Business Development Manager and Jones is VP of Business Development. CSoS Vice Chairman Brian Buchanan moderated the event.
ICE Services is a multi-territory collaboration between PRS for Music and collecting societies from GEMA and STIM. The not-for-profit organization became the world's first integrated licensing and processing hub in 2015, and now boasts Europe's largest aggregated music repertoire.  With its suite of copyright administration services ICE also helps copyright holders license DSPs in Europe and claim works used by those platforms.
---
The Copyright Society of the South was formed in 1988 in Nashville, Tennessee, consisting of music publishers, attorneys, music industry personnel, and academicians interested in the field of copyright law. Its mission is to provide a forum for study and discussion of domestic and international copyright law and other matters pertaining to the entertainment industry. It provides seminars, speakers, presentations, and the opportunity to present various points of view on subjects of interest to the membership. The Society refrains from taking a lobbying role or endorsing or sponsoring political positions or candidates.  The Society also offers a scholarship awards program for students majoring in copyright-related fields.
Members are accepted by board vote. If you are interested in joining the Copyright Society of the South please send an email to [email protected] with a PDF copy of your curriculum vitae or resume.
Category: Core Content, Event Photos, Event Pics, News