Members and guests of the Copyright Society of the South enjoyed a webinar on December 11, 2020, with guest speaker Stan Soocher who presented his annual copyright review.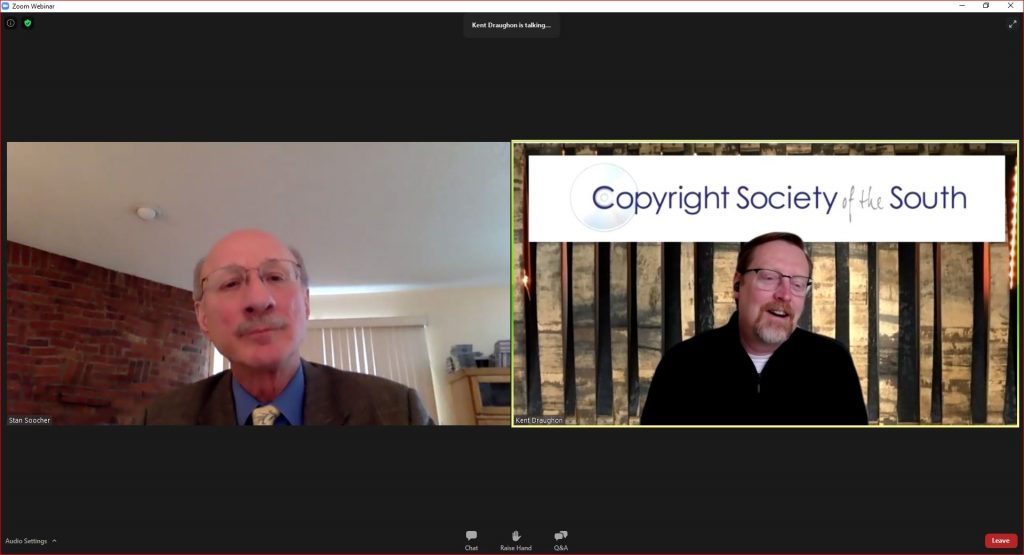 Soocher is Professor of Music & Entertainment Industry Studies at the University of Colorado's Denver Campus and the long-time Editor-in-Chief of Entertainment Law & Finance. In addition, Stan is an award-winning journalist and entertainment attorney. He is author of the books Baby You're a Rich Man: Suing the Beatles for Fun & Profitand They Fought the Law: Rock Music Goes to Court, as well as of the chapter "Twenty-First-Century Patronage: The Road to Billy Joel's Madison Square Garden Concert Residency" in the new book We Didn't Start the Fire: Billy Joel and Popular Music Studies.
This is Stan's 24th consecutive year presenting "Copyright Year in Review" to the Copyright Society of the South.
______
The Copyright Society of the South was formed in 1988 in Nashville, Tennessee, consisting of music publishers, attorneys, business people and academicians interested in the field of copyright law. Its mission is to provide a forum for study and discussion of domestic and international copyright law and other matters pertaining to the entertainment industry. It provides seminars, speakers, presentations, and the opportunity to present various points of view on subjects of interest to the membership. The Society also offers a scholarship awards program for students majoring in copyright-related fields.
Consideration for membership is open to attorneys, business people, academians, administrators and others interested in the field of copyright law.  To apply for membership please visit our Membership Application page.
Category: Event Photos, Event Pics, News, Uncategorized