On Tuesday, December 17, Register of Copyrights Maria Pallante visited the Copyright Society of the South. She provided an update on legislative and copyright office changes and discussed several court cases on copyright and technology and the proposed Next Great Copyright Act. See photos from the event below.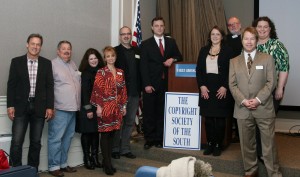 Pictured (above) from left to right:
Copyright Society of the South Chairman of the Board John Barker, Board Members Bob Mather, Wendi Crosby, Kele Currier, Casey McGinty, Copyright Office Counsel Steve Ruwe, Maria Pallante, Board Members Dan Ekback, Ted Goldthorpe, and Jill Napier.
Photo credit:  Denise Nichols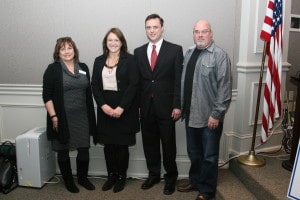 Pictured (above) from left to right:
Association of Independent Music Publishers' Denise Nichols, Maria Pallante, Copyright Office Counsel Steve Ruwe, and Marc Driskill.
More photos from the event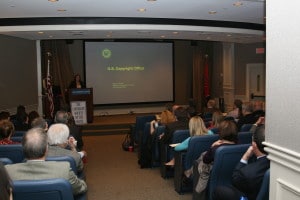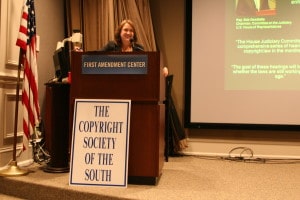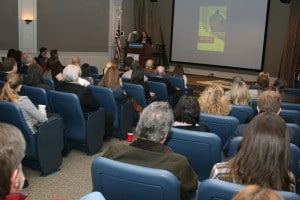 About Maria Pallante
Maria A. Pallante is the 12th Register of Copyrights and director of the United States Copyright Office, effective June 1, 2011. Pallante served as the Acting Register for five months, following the retirement of Marybeth Peters on December 31, 2010.  Pallante has had wide-ranging experience in copyright transactions, policy and litigation, in both the government and private sectors. In addition to Acting Register, she has held several key positions within the Copyright Office: Associate Register for Policy and International Affairs (2008-2010), Deputy General Counsel (2007-2008), and Policy Advisor (1996-1997). She spent much of her career in New York, working there from 1999-2007 as intellectual property counsel and director of the licensing group for the worldwide Guggenheim Museums, where she advised on programmatic and business initiatives related to publishing, product development and branding. She has led two national author organizations, working as Executive Director of the National Writers Union (1993-1995) and as Assistant Director of the Authors Guild (1991-1993), and was associate counsel at the Washington-based law firm and literary agency, Lichtman, Trister, Singer and Ross.
Category: Event Photos, News